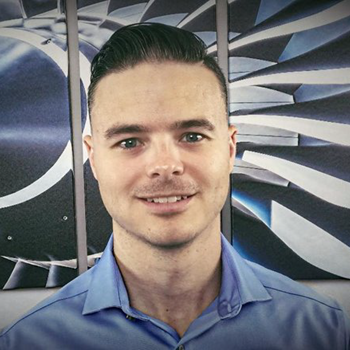 Director Part 135
and Management Companies
A
dam Sipe is a certified flight instructor (CFI), aircraft maintenance technician with Airframe and Powerplant ratings with inspection authorization (A&P/IA), and a graduate of Embry Riddle Aeronautical University. Adam was bit by the aviation bug at a very young age. Growing up near Chicago's O'Hare Airport, he spent most of his free time plane spotting and learning everything he could about airplanes. At 14, he took his first flight in a 1975 Cessna 172.
In 2007, Adam joined the U.S. Marine Corps as an F/A-18 crew chief and mechanic. While in, Adam served combat deployments in support of Operations Enduring Freedom and New Dawn. In 2012, Adam was honorably discharged and earned his A&P certificate. He took his first job working on warbirds such as the T-28, T-38, L-39, and L-139. Working on warbirds allowed Adam to hone his mechanical skills; he worked on everything from airframe and powerplant systems to avionics and electrical. Adam also performed major overhauls, alterations, and repairs, and was the aircraft lead mechanic for 100 hour and annual inspections.
Later, Adam worked for Textron Aviation's Citation Service Center as a maintenance technician and lead mechanic. Adam was a shift lead for Part 135 maintenance & ADS-B upgrades for operators such as NetJets and Wheels Up. Adam specialized in the King Air, Citation 525, 560XL, 680/680A, and 750-series aircraft maintenance and inspections.
In 2016, Adam started Airplane Intel LLC, a turn-key aircraft ownership firm based in Central Florida assisting buyers and owners through all phases of ownership. Later that year, Adam created the Airplane Intel Podcast, an aviation podcast & blog about the ins and outs of airplane ownership. He also publishes videos on his YouTube channel.
Adam is passionate about aviation and committed to helping aircraft operators be better informed and more successful. Adam is also fervent about bringing aviation out of the dinosaur age and into the 21st century. While technology in aviation has taken many leaps in recent years in terms of manufacturing and navigation, aviation recordkeeping is still left in the Wright Brothers' era. By harnessing technology that has already proven successful in other industries and leveraging recent changes to FAA guidelines, an opportunity exists to enhance aviation's value proposition while simultaneously saving money and increasing aviation's effectiveness.
Adam and Larry Hinebaugh met in early 2020 through an aviation networking circle. After a brief conversation, Adam and Larry realized they shared a similar passion and mission for aviation. Shortly after, Larry was a guest on the Airplane Intel Podcast to discuss how digitizing aircraft maintenance records protect owners/operators from uninsured losses, saves operators from the inefficiencies of paper records, and ultimately boosts an organization's bottom line and increases asset value.
Started
Airplane Intel Podcast
Began Live Stream
Virtual Prebuy
Launched
Aircraft Sales Systems