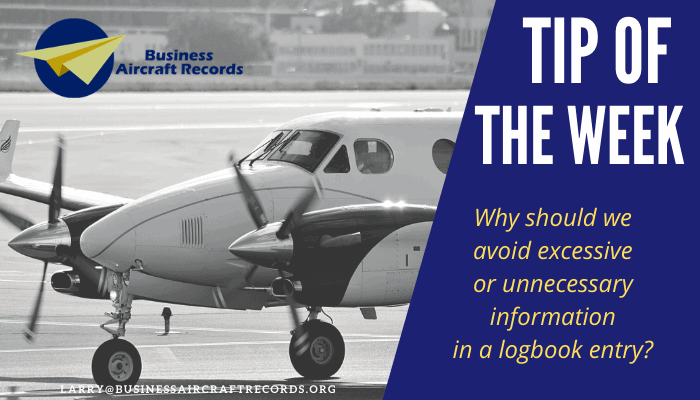 The first item listed in FAR 43.9 Content, Form, and Disposition of Maintenance stipulates what information must be included in the maintenance record. It should include both a description of the work performed and a reference to the acceptable or approved data used to perform the work. A reference to the approved data used to substantiate the work is important because it aids in understanding the methods and procedures used in accomplishing the work.
Acceptable and/or approved reference data commonly used in the repair or alteration of an aircraft includes the following:
Maintenance Manuals
Airworthiness Directives
Service Bulletins and Service Letters
Advisory Circulars
ICAs
STCs
AC 43.13-1A/B
Form 8110-3 Approved Data
Engineering Orders
Unless the reference data is approved and has a specific purpose of identifying what work was accomplished on the aircraft or identifying the airworthiness of the part installed the data need not be included in the maintenance entry.
Excessive and/or unnecessary data typically found in logbook entries includes the following:
 Work Orders
Discrepancy list and resolutions
Shipping Information
Packing Lists
Sales Orders
Task Cards
Parts Identification Cards
Tear Down Reports
Some of the above information is good to keep as a reference for understanding the complete maintenance picture of the aircraft. For example, it is good to keep copies of task cards, teardown reports, the list of discrepancies and resolutions incurred during an inspection, etc., only they do not belong in the Logbook's FAR 43 documentation.
Conclusion:
All the information that an aircraft owner has available is good to support the owner's responsibilities with respect to the maintenance history of the aircraft; but excessive and/or unnecessary data is not required to ensure a proper logbook in compliance with FAR 91.417. Although it is sometimes a good idea to keep this kind of reference data as part of the total aircraft record, it belongs in a separate folder or file labeled accordingly.
Subscribe To Our Newsletter