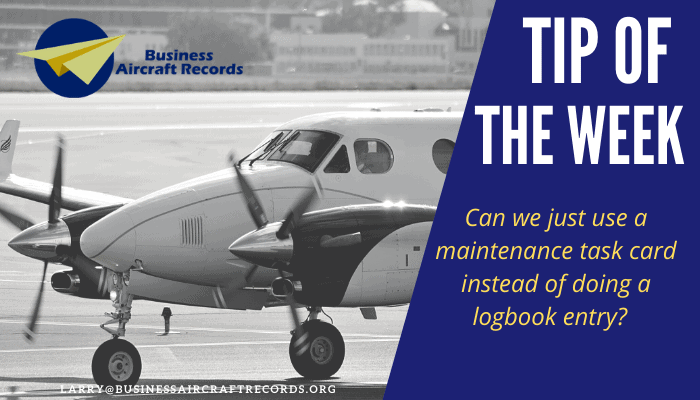 Task Cards are part of an aircraft's approved maintenance and inspection program. Typically, you will find larger type aircraft have the manufacturer's recommended inspection program issued for the specific make and model series aircraft. Contained within these inspection programs are task cards. These task cards detail the work to be performed or specific inspection to be accomplished and are coded to the ATA Chapter corresponding to the maintenance manual.
For example, a task card is issued for the inspection of the Horizontal and Vertical Stabilizers entitled; Sonic Fatigue Crack – Inspection for the Stabilizer (Horizontal/Vertical). The Task Card number is numbered 553011 and associated with items we would find in ATA 55. This task card contains the instructions for the completion of this inspection per the OEM's Recommended Inspection Program, or the inspection program approved for your company by the FAA.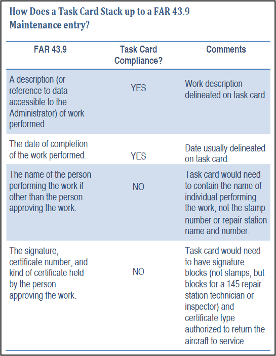 However,
FAR 43.9 states that the following conditions must be met to ensure a proper maintenance entry is made after accomplishing maintenance on the aircraft:
A description of the work performed.
The date of completion of the work performed.
The name of the person performing the work if other than the person approving the work.
The signature, certificate number, and kind of certificate held by the person approving the work.
Conclusion:
Task Cards are a great reference tool to demonstrate the methods and procedures used in accomplishing work or an inspection. However, task cards are typically not complete in themselves to qualify for a FAR 43.9 or FAR 43.11 logbook sign-off.
Subscribe To Our Newsletter